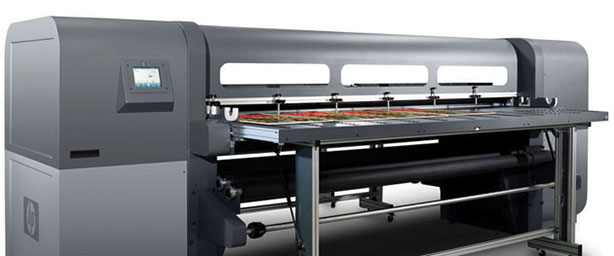 It's true what your have heard, we do it Large! Large Format Printing that is.
Flexible and sheet media
We have two ink jets capable of 1400 dpi, 64" print width by any length, and die cutting. These use a seven color ink set for a wide color gamut and high image fidelity. We also are connected to a grand format printer in our Dallas facility that will print up to 16' width. We stock over 60 types of vinyl/laminate so that we can meet your exact need with the right material. All flexible media can be seamed to fit any size length and width necessary. For example, we are currently printing a 100' x 30' wall graphic for a brick wall – all done with seamed vinyl.
Rigid media
Typically we use direct to substrate, UV printing on 4'x8' sheets. We have white ink capability, can print up to two inches in thickness, and 48" width. Our Dallas facility has an additional flatbed we can use for overflow. We stock ultraboard, foamcore, and coroplast of varying thickness in house; and have 4 hour delivery contract for plexi, acrylic, and all other substrates. All of these can be cut to fit.
Substrate finishing
We can contour cut/rout sizes up to 5'x10' on all manner of rigid media. For banners, we offer whatever finishing our customer needs – typically sewn, heat welded, or hem taped but we can do webbing, d-rings, etc upon request. We also offer framing, canvas stretching, mounting services and display hardware.
Shipping
As you've seen, this is what really sets us apart. We have extremely discounted FedEx rates which greatly reduce the cost involved in shipping large format items (typically 80% off book rates). We don't up-charge shipping or bill any kitting fees.
Capabilities:
Banners
Canvas-wrapped frames
Posters
Tradeshow Displays & Hardware
Wall Murals
Transit Signage
Event Graphics
Sports Graphics
Point of Purchase Signage
Corporate Graphics
Retail Graphics
Window Graphics
Floor Graphics
Vehicle Graphics
Backlit Graphics
Tension Fabric Structures
Structural Signage
Light Boxes
Digital die-cutting and routing capabilities
Construction Signage